Our Mission
D&D Newbie Sessions is a professional Dungeons & Dragons (D&D) organization that strives to be the best at introducing new people to D&D in a welcoming, friendly, and comfortable environment. Here are our primary goals:
Introduce new people to D&D
Provide resources for new players to explore the world of D&D
Provide entertainment for new and experienced D&D players
Contribute to the overall D&D community
Note: D&D Newbie Sessions is unofficial fan content and not affiliated with Wizards of the Coast in any way. We're just huge fans that want to share our passion with more people.
About Sam
Sam was born in Wisconsin and has lived in Colorado. He is a long-time PC gamer and geek who fell in love with D&D in 2015. He has run well over 100 games and dozens of DM training sessions, but still considers himself new to tabletop gaming.
Sam started D&D Newbie Sessions in Denver in 2019. He is focused on growing the organization and helping more people fall in love with D&D. You can contact Sam directly on our Discord server by messaging @Sam.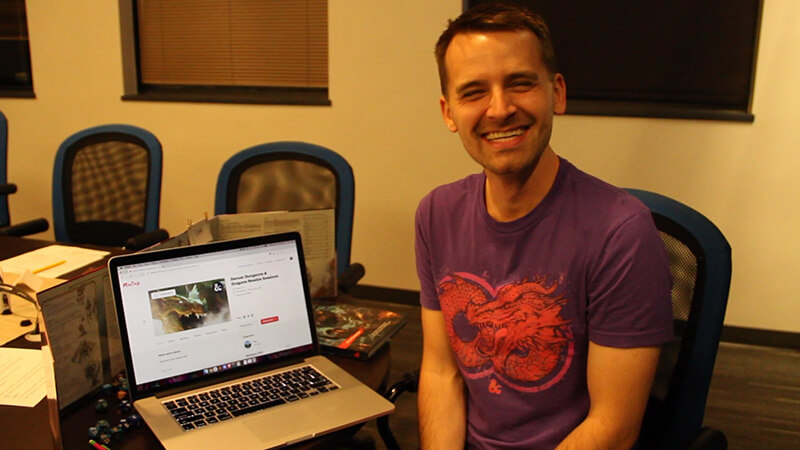 For Experienced Players
Newbie Sessions are designed for introducing new players to D&D, but experienced players are welcome as well. Newbies Sessions are a great option for players between campaigns, looking for new party members, or just looking to add a little more D&D into their lives. However, please be prepared to be patient and experience a slightly slower game speed while we explain things. We also suggest you let new players be the stars of the adventure. That doesn't mean you have to sit back and do nothing. Just use your best judgement and remember that it's about creating a positive and fun experience for new players. We appreciate your understanding!
For Dungeon Masters
Are you an experienced and newbie friendly DM? Great! Come join our team and run games through our meetup groups. This will allow you to find new players for your campaigns, test out new ideas and stories, improve your overall DM skills, and meet new people. Our goal is to make it easier than ever for DMs and players to discover one another and form lasting friendships through fun and exciting campaigns. We also encourage DMs to "poach our players" and invite them to long-term campaigns that you run outside of the community. There are far too many members for us to run games for everyone and many players want to play in long-term campaigns.
Rules
Here are the general rules that apply to all D&D Newbie Sessions:
Be newbie friendly! People are here to learn and get comfortable with D&D. Help answer questions, be supportive, and welcome new people.
Dungeon Masters (DMs) should be nice to players and players should be nice to their DM. We're here to have fun and experience the wondrous world of D&D, please don't ruin it by being rude and disrespectful.
Our community is designed for adults so swearing and adult humor is allowed, but please use in moderation and be respectful of the other players and the DM.
Hate speech, bullying, inciting violence, etc. will not be tolerated. Players who violate this rule will be quickly removed from the community.
* Rules may change or be updated as D&D Newbie Sessions grows and evolves so be sure to check back periodically.
Adventure Awaits
Join our community and begin your adventure today!